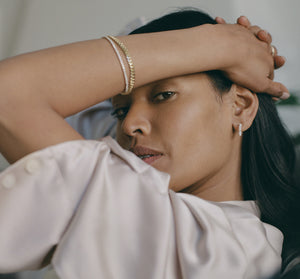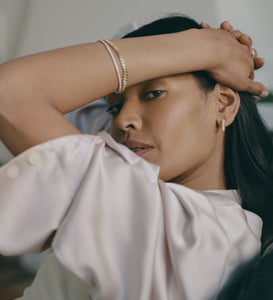 Inspired by you, and your many moments lived.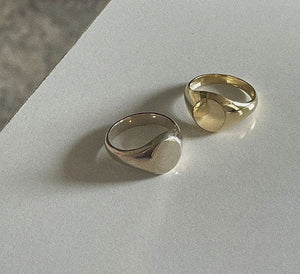 We believe
In celebrating you, and the uniqueness of your narrative. That jewelry is a second skin, companion to your memory and witness to your adventure. In designing modern heirlooms, made to last a lifetime—the kind you'll invest in and pass down.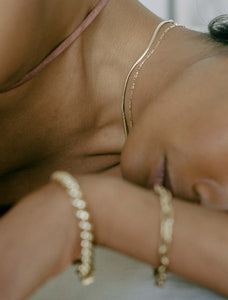 Stories can be told in many forms—jewelry is one of them.
Instinctive, elemental, the Kinn® woman is not defined by her jewelry. Rather, Kinn® pieces are defined by the unique lives and signature styles of each of the women who wear them. When they pass their Kinn® jewelry on to another generation, yet another story is written.

Whether it's your first fine jewelry purchase or an addition to your collection of staples—each Kinn® piece is thoughtfully designed to stand the test of time, an heirloom in the making.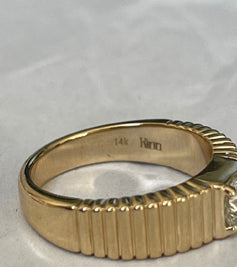 1
SUSTAINABLE Materials
Kinn® uses recycled 14k gold whenever possible. Created from existing jewelry, industrial metals, or electronic components, it's then refined back to its purest elements, making it equal in quality to newly mined metals.

Our gemstones are conflict-free and fair trade, and our diamonds adhere to The Kimberly Process. We individually select honest and ethical stones from suppliers, rather than mass purchasing and producing.
2
A Circular Mindset
When we founded Kinn® in 2017, it was essential for us to create pieces to last a lifetime—not to end up in a landfill.

We also breathe new life into your heirloom and inherited jewelry through our Repurpose program, recycling the metals and stones into entirely new and custom pieces.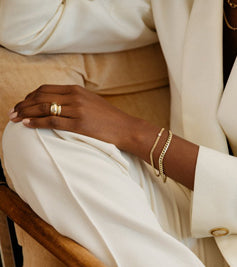 3
Thoughtfully Transparent
While the jewelry industry is traditionally opaque, we believe in sharing our knowledge of materials sourcing, labor standards, production, and quality.

From raw materials to finished goods, we prioritize strict guidelines for developing and manufacturing our pieces, so we can ensure the people who make your jewelry are fairly compensated and work under safe conditions.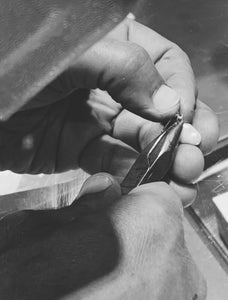 REMOVE THIS SECTION
unless we have other notes to add (COPY)
Generational quality from hand craftsmanship--quite literally, the techniques that can only be done by hand, not by a machine (i.e. how you set a precious stone). And these are the techniques that are passed on from previous generations + and deeply rooted in the heritage.
Rooted heritage
There isn't just a machine making/printing bunch of our jewelry, but rather deeply rooted heritage and techniques that makes each one of our pieces.
Jennie,
Founder &
CEO
"I started Kinn to replace the antique jewelry my parents lost when their home was robbed. In honor of those priceless heirlooms, we design classic pieces at Kinn that stand the test of time. After a lifetime of wear, you'll be able to pass your Kinn jewelry on as an heirloom."